Principled Technologies Releases Study Comparing the Apache Cassandra Performance of Clusters Based on AMD EPYC 7601 Processors and Previous-Generation Intel Processors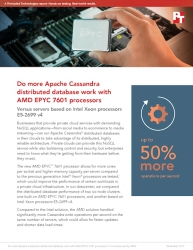 Durham, NC, December 21, 2017 –(PR.com)– Private clouds that run demanding NoSQL applications such as Apache Cassandra need hardware that can provide strong performance. Principled Technologies (PT) tested a cluster based on AMD EPYC 7601 processors, and found that it could deliver up to 50 percent more operations per second compared to an Intel Xeon E5-2699 v4 processor-powered cluster when running Apache Cassandra workloads.
According to the report, "Compared to the Intel solution, the AMD solution handled significantly more Cassandra write operations per second on the same number of servers, which could allow for faster updates and shorter data load times."
To learn more about how NoSQL applications in a private cloud could benefit from the AMD EPYC 7601 processor, read the full report at http://facts.pt/2tzC3h and see the infographic at http://facts.pt/6e5dza.
About Principled Technologies, Inc.
Principled Technologies, Inc. is the leading provider of technology marketing and learning & development services.
Principled Technologies, Inc. is located in Durham, North Carolina, USA. For more information, please visit www.principledtechnologies.com.
Contact Information:
Principled Technologies, Inc.
Chloe Rockow Madsen
(919) 941-9812
Contact via Email
http://www.principledtechnologies.com/
1007 Slater Road, Suite #300
Durham, NC 27703
Read the full story here: https://www.pr.com/press-release/735072
Press Release Distributed by PR.com