Elastic Wonder's New LeggingShoe™ – High Heels and Leggings Seamlessly Combined – is Now Available for Pre-Order in 80 Solid Colors via Their KickStarter Campaign Page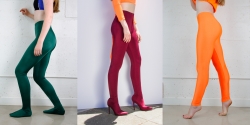 New York, NY, August 14, 2017 –(PR.com)– With a shortage of solid colored leg wear on a market over-saturated with printed yoga and Athleisure pants, leggings brand Elastic Wonder steps in to fill the gap with an affordable option – The LeggingShoe™ priced at $249 – to replace the high end (high-priced at $2850 a pair) Designer Cosmetic Pantashoe which has been shown on this years Spring and Fall runways, as well as in countless editorials and spotted on fashionable celebrities.
With the recent demise of a certain American Apparel company who used to stock quiet a few solid color leggings, shelves are now empty. There are now even less options for women around the world.
Elastic Wonder's LeggingShoe™ prototype looks amazing and is available to order in over 80 solid colors. Preorder your pair now before the campaign ends September 1st, 2017.
In case you are not the high heeled girl type, you can opt to get the leggings with feet and wear them with any shoes or simply pick a pair of basic leggings in your favorite color. Elastic Wonder's color card offers a large range of choices from sorbet and ice cream shades of vanilla and melon to darker, murkier shades of merlot and hunter green.
"Did the world just get more colorful?"
Contact Information:
Elastic Wonder
Idil Pose
917-583-2466
Contact via Email
elasticwonder.com
https://www.kickstarter.com/projects/1726153398/the-80-solid-colors-spandex-leggings-and-pantashoe
Read the full story here: http://www.pr.com/press-release/726591
Press Release Distributed by PR.com