OnPoint Manufacturing Collaborates with New York Designer, Gabi Asfour, and Parsons School of Design to Develop New Uniforms for the Baltimore Symphony Orchestra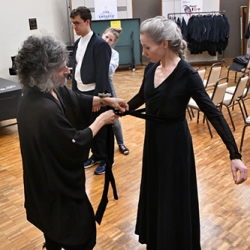 Nashville, TN, June 08, 2018 –(PR.com)– OnPoint Manufacturing, Inc., an innovative leader in on-demand, personalized apparel manufacturing, today announced a partnership with top New York Designer, Gabi Asfour, and the Parsons School of Design to redesign and manufacture new uniforms for the Baltimore Symphony Orchestra under the leadership of Music Director Marin Alsop.
OnPoint Manufacturing is part of a consortium that includes New York top designer, Gabi Asfour and the Parsons School of Design that came together to produce elegant, innovative garments for the symphony. The main concerns with their current uniforms were that they were hot and restrictive. The new uniforms achieve a whole new level of comfort and beauty for the symphony members.
"I came across OnPoint Manufacturing after several months of research and many talks with other manufacturers," says New York Designer, Gabi Asfour. "I was impressed by OnPoint's unique, on-demand, customized business model and their dedication to a superior product. It is companies like OnPoint Manufacturing that are the future of the apparel industry."
"It was an honor to work with this consortium to manufacture the new uniforms. The dedicated work that went into designing the uniforms was tremendous, and we were thrilled to be an integral part of the process. We are committed to building a long-lasting relationship with these organizations by delivering personalized service and a top-quality product," says J. Kirby Best, Chairman, OnPoint Manufacturing.
"I am so thrilled with the new garments that Gabi and his team have created, which rework traditional aesthetics in a new, forward-thinking way," says Alsop.
The Baltimore Symphony Orchestra will unveil their new orchestral garments during their program of Bernstein and Shostakovich this weekend led by Marin Alsop, where they will debut the new ensembles on Friday, June 8 at the Joseph Meyerhoff Symphony Hall in Baltimore and on Saturday, June 9 at The Music Center at Strathmore in North Bethesda, MD.
About OnPoint Manufacturing, Inc.
OnPoint Manufacturing specializes in Purchase Activated On-Demand Mass Customization of apparel. OnPoint has developed technically advanced manufacturing and distribution solutions for the apparel industry. Our factory model automates and integrates almost every aspect of the manufacturing process from order entry to delivery. The integrated components that are driven by complex software allow OnPoint to manufacture millions of unique SKU's on-demand reducing inventory costs and streamlining the whole supply chain. Founded by CEO J. Kirby Best, OnPoint maintains a manufacturing facility in Florence, Alabama, with headquarters in Nashville, Tennessee.
Media requests may be directed to OnPoint Manufacturing, Inc. Director of Marketing Christopher Taylor at 615-900-9022 or via email at [email protected].
Contacts
J. Kirby Best, (615) 330-2407
Chairman
[email protected]
Christopher Taylor, (615) 900-9022
Director of Marketing
[email protected]
Devon Maloney, (410) 783-8071
Assistant Director of Communications
[email protected]
Gabi Asfour
New York Designer & Professor, Parsons School of Design
[email protected]
Contact Information:
OnPoint Manufacturing, Inc.
Christopher Taylor
615-900-9022
Contact via Email
www.onpointmanufacturing.com
J. Kirby Best, (615) 330-2407
Chairman
Read the full story here: https://www.pr.com/press-release/756049
Press Release Distributed by PR.com