A-Z Bus Sales Introduces the New 2018 Blue Bird All American Type D Electric School Bus Ride and Drive Events Throughout California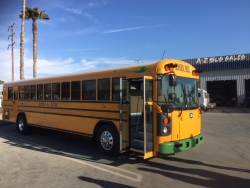 Colton, CA, January 05, 2018 –(PR.com)– A-Z Bus Sales, Inc., a leading provider of transportation solutions, announces the Blue Bird Electric Bus Ride and Drive Event across California. The event tour begins in Bellflower, California on January 8th showcasing Blue Bird's All American Type D Rear-Engine electric school bus powered by Adomani/EDI. The event tours six cities in California stretching from Southern to Northern California, ending on January 17th in Fremont, California.
Blue Bird first announced the electric All American school bus at last year's School Transportation News Expo and Show in Reno, Nevada. The Type D transit school bus is an all-electric bus powered by Adomani/EDI drive train and the first type in its class of school buses. "Blue Bird continues to lead the industry in alternative fuel options and now zero emissions technology," said Brandon Bluhm, Director of New School Bus Sales at A-Z Bus Sales. "We are thrilled at the reception of such an innovative product and proud to have the opportunity to show both A-Z Bus and Blue Bird's commitment to green technology where it will matter most, benefitting our school children."
The electric bus is gaining popularity in California since it is a zero emissions vehicle and helps in the reduction of climate-changing gases, improved air quality, and a reduction of dependency on petroleum consumption. The new Blue Bird electric buses' popularity is fueled by the California Air Resources Board's (CARB) announcement that the Blue Bird Type D transit bus is now Hybrid and Zero-Emission Truck and Bus Voucher Incentive Project (HVIP) approved. "As the HVIP approved dealer, we are here to assist school transportation managers to apply for an HVIP voucher for the new Blue Bird All American Type D electric school bus," said John Landherr, President and CEO of A-Z Bus Sales. "Additionally, CARB recently announced the FT 17-18 Funding Plan that now includes $188M for HVIP and the purchase incentive has increased to $220,000."
A-Z Bus will begin delivering the Blue Bird All American Electric School Bus this year, 2018. Interested parties who wish to view and learn more about the Blue Bird electric school bus are encouraged to attend one of the six California events. To learn more about the upcoming Ride and Drive events, visit A-Z Bus Sales at www.a-zbus.com.
About A-Z Bus Sales, Inc.
A-Z Bus Sales, Inc. is a transportation dealer-distributor serving the education, government, public sector, commercial and private fleet markets with a broad portfolio of passenger transportation solutions. The employee-owned company specializes in green alternative fuel products. A-Z provides sales, service, parts, and financing for both new and pre-owned buses. Founded in 1976, A-Z Bus Sales has built a reputation for long-lasting customer relationships, professionalism and integrity, and the share positions in markets served. Headquartered in Colton, California the company has multiple sales and service locations serving California, Arizona, Nevada, and Hawaii. More information is available at www.a-zbus.com or by calling 800.437.5522.
Contact Information:
A-Z Bus Sales
Allen Stafford
951-781-1800
Contact via Email
www.a-zbus.com
Read the full story here: https://www.pr.com/press-release/740659
Press Release Distributed by PR.com