Southlake Travel Cruise the Mediterranean Like Royalty with The Royal Chef, Darren McGrady While Visiting Monte Carlo, Portofino and St. Tropez This July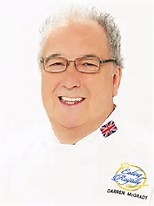 Dallas, TX, March 29, 2018 –(PR.com)– There's no shortage of "royal news" on the horizon with two royal weddings planned, and a royal baby on the way; this is the year you need to meet The Royal Chef, Darren McGrady. As chef at Buckingham Palace for 11 years, and former Private Chef to Diana, Princess of Wales, Oh, the inside stories he'll have to share after Prince Harry & Meghan's royal wedding.
Join him as he sails this summer, July 13-23, 2018 through the Mediterranean as the "Celebrity Chef" on Regent Seven Seas Voyager. Starting in Barcelona, to Valencia, Rome, Florence, Portofino, Monte Carlo and Saint-Tropez before a return to Barcelona. In addition, guests on this exclusive sailing will enjoy two complimentary chef demo tastings, a Compass Rose Degustation menu, and a delightful Afternoon High Tea experience.
Exclusive to all "royal guests," they will receive a private cooking class, a welcome cocktail party, a private group dinner and private shore excursion in Monte Carlo. To participate in these royal activities aboard the Regent Voyager contact Southlake Travel: (817) 657-9866. Travel guests will also receive a personally autographed copy of Chef Darren's latest cookbook, "The Royal Chef at Home… Easy Seasonal Entertaining."
Contact Information:
Southlake Travel
Karen Dawson
817-657-9866
Contact via Email
southlake-travel.com
Read the full story here: https://www.pr.com/press-release/749150
Press Release Distributed by PR.com